PORTABLE WELL LOG SCANNER
The world's only scanner designed specifically to accommodate well logs just got faster, clearer and lighter weight. With the same compactness that fits in a standard computer case, and weighing under 10 pounds, the NeuraScanner can be carried anywhere - office, customer site, rig, home. Designed with a its own custom programmable microchip and a unique new optical sensor created for Neuralog, specifically for capturing well logs, NeuraScanner truly represents state of the art in continuous scanning technology.
Powerful & Lightweight

NeuraScanner is a small, fast, light, worry free log scanner. Equipped with a powerful high-speed programmable processor which will allow for cpu updates, and a custom-built image sensor that was designed for scanning well logs, it can perform advanced image processing and compression to ensure great scans every time.

"The new NeuraScanner makes paper fly! I was able to scan my logs at over 10 inches/sec. Finally a truly practical way to capture my logs."
Houston, Texas


JIBlink Overview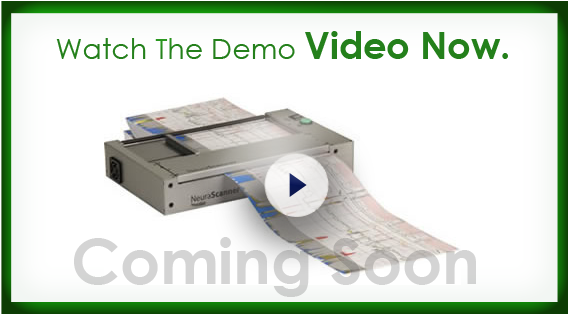 Neuralog



Enjoy Lightning Fast Scanning Technology.

Neuralog's Next Generation NeuraScanner works with USB2.0 to make data transfer to your PC robust and fast. This combined with our updated image processing technologies, allows for speeds up to 10 times faster than our previous scanner. B&W or Greyscale scanning for a typical log is achieved at speeds up to 10"/sec and the image quality is outstanding. For hard-to-read logs needing a high resolution or color scan, the maximum resolution is now 600dpi, and a custom-built LED image sensor produces the highest quality color scans. In addition, NeuraScanner now offers an Instant Rescan option. Instant Rescan sends your log image to NeuraView where brightness and detail can be modified after the scan. With Instant Rescan the need to rescan your paper log has been eliminated.

NeuraScanner works with your USB port. USB 2.0 is highly recommended because of its speed, however USB1.0 is supported. And with your NeuraLaserColor or NeuraJet17 well log printers, it can be used as an your log copying solution.

Neurascanner
Avatar Systems, Inc. is proud to offer such an innovative and useful product for our customers.

Would you like to know more about what NeuraScanner can do for you?

Click the button below for more



Get Info!